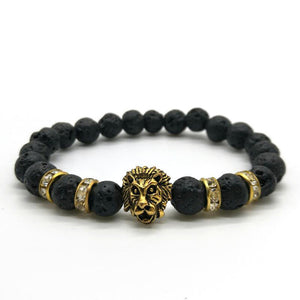 Antique Gold Lion Head Lava Stone Bracelet
Regular price $2.58 $9.99 Sale
Want to stick out from the crowd? You can with this beautiful Antique Gold Lion Head Lava Stone Bead Bracelet. We are giving away the next 30 of this best selling product at a discounted price. 
Lava stones offer healing properties which bring emotional tranquility, relaxation and a sense of calmness to our lives. Lava stones are created by the fire and energy of a volcano, and they are rich in minerals that come from deep within the earth, which brings natural anxiety relief. 
Lava stones will bring strength and courage to whoever is wearing it. It reduces anger and negativity from your life, while also increasing your energy, assertiveness, and protection. More importantly, for anxiety, lava stones introduce grounding qualities into your life which help calm your emotions.  Due to the strong connection to the earth, wearing lava stones grounds you, keeping you calm and humble. Limited quantities available, order now.
Free Shipping
30 days no questions asked return policy
US/Canada: 10-18 Business Days shipping
Rest of World: 14-24 Business Days shipping