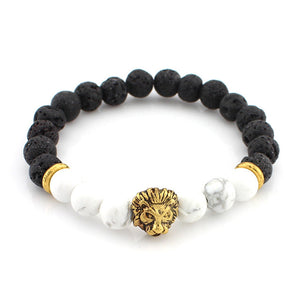 Lava Stone Onyx White Gold Lion Bracelet
Regular price $14.95 Sale
Lions symbolize courage, strength in overcoming difficulties, and power. This beautiful Lava Stone Onyx White Gold Lion Bracelet, which is two-tone in style, is sure to portray the image of courage, strength, and power. The bracelet, which includes a bezel setting, is made using zinc alloy and premium elastic to ensure durability. 
The half Lava Stone portion of the bracelet offers healing properties which bring emotional tranquility, relaxation and a sense of calmness to our lives. Lava stones are created by the fire and energy of a volcano, and they are rich in minerals that come from deep within the earth, which brings natural anxiety relief. 
Lava stones will bring strength and courage to whoever is wearing it. The strength portrayed by the Lion head, coupled the lava stone, will make you unstoppable. Limited quantities available, order now.
Free Shipping
30 days no questions asked return policy
US/Canada: 10-18 Business Days shipping
Rest of World: 14-24 Business Days shipping